AUTHENTIC HAND PAINTED SIGNS
Ditch the sticker and get a true hand painted sign for your new or established business
While painting this mural for Daylight Donuts of Dacono, a man walked up and expressed his opinion on signs painted directly to brick. "Signs now days just don't have the charm they used to." adding later, "You can't fake this." The design of this mural was inspired by the current franchise logo mixed with a little media that's been on the iconic box of donuts for years.
This 12ft by 50ft mural was painted for Frio Ice Cream of Perry Iowa. A mid century American theme was brought up in our first meeting and we ran with it. Bright colors, bouncing letter boxes, googie sign style arrow, boomerangs, and atomic stars, it's all there. It's clear who's selling ice cream in this town.
Denver street artist and lowrider enthusiast Jolt contacted me to add a spun aluminum leaf trunk script depicting the area of Denver he grew up in and calls home. After some back and forth with designing it was clear that his letter style was needed to make this truly authentic.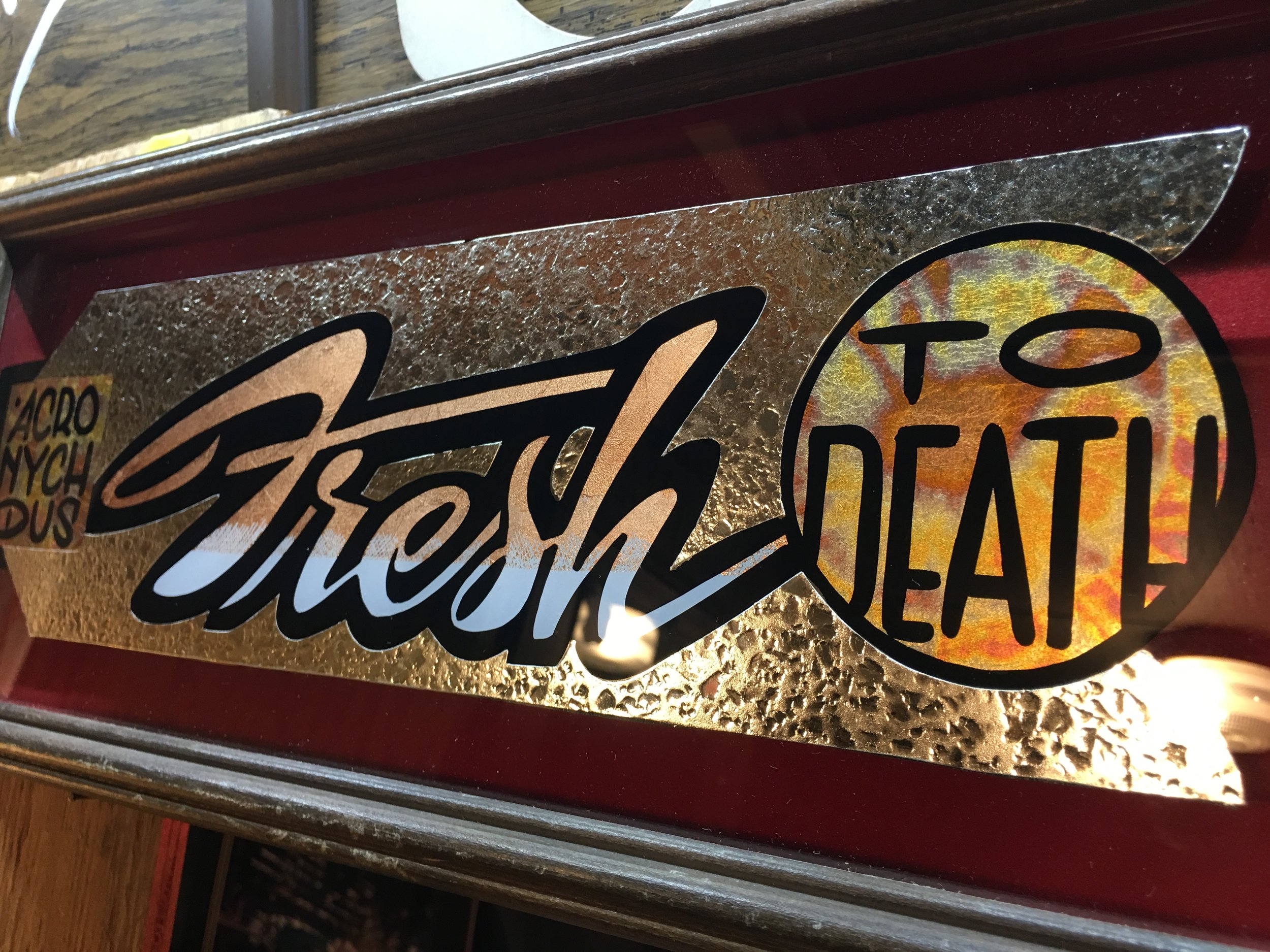 Without the strive for perfection and knowledge there would be no progression. This shadow box was created to test my ability to progress in the hand painted sign industry based on techniques taught by other sign painters and letterheads from around the world. The back of the glass was etched using acid then 12k white gold applied over the irregular surface. The effect is eye catching and beautiful.
This 2' x 3' oval sign was commissioned by an owner at Ollie's Barbershop. The request seemed odd at first but I was very interested in the story behind it. Barbers and Tattoo Artists, who typically shared a space, would cure black eyes for sailors and day laborers. Sailors would come into port, have a few drinks, and get a little rowdy. Problem was if they went back to the ship with black eye they would be in trouble. Day laborers wouldn't get picked out of the group because a black eye meant you were a trouble maker.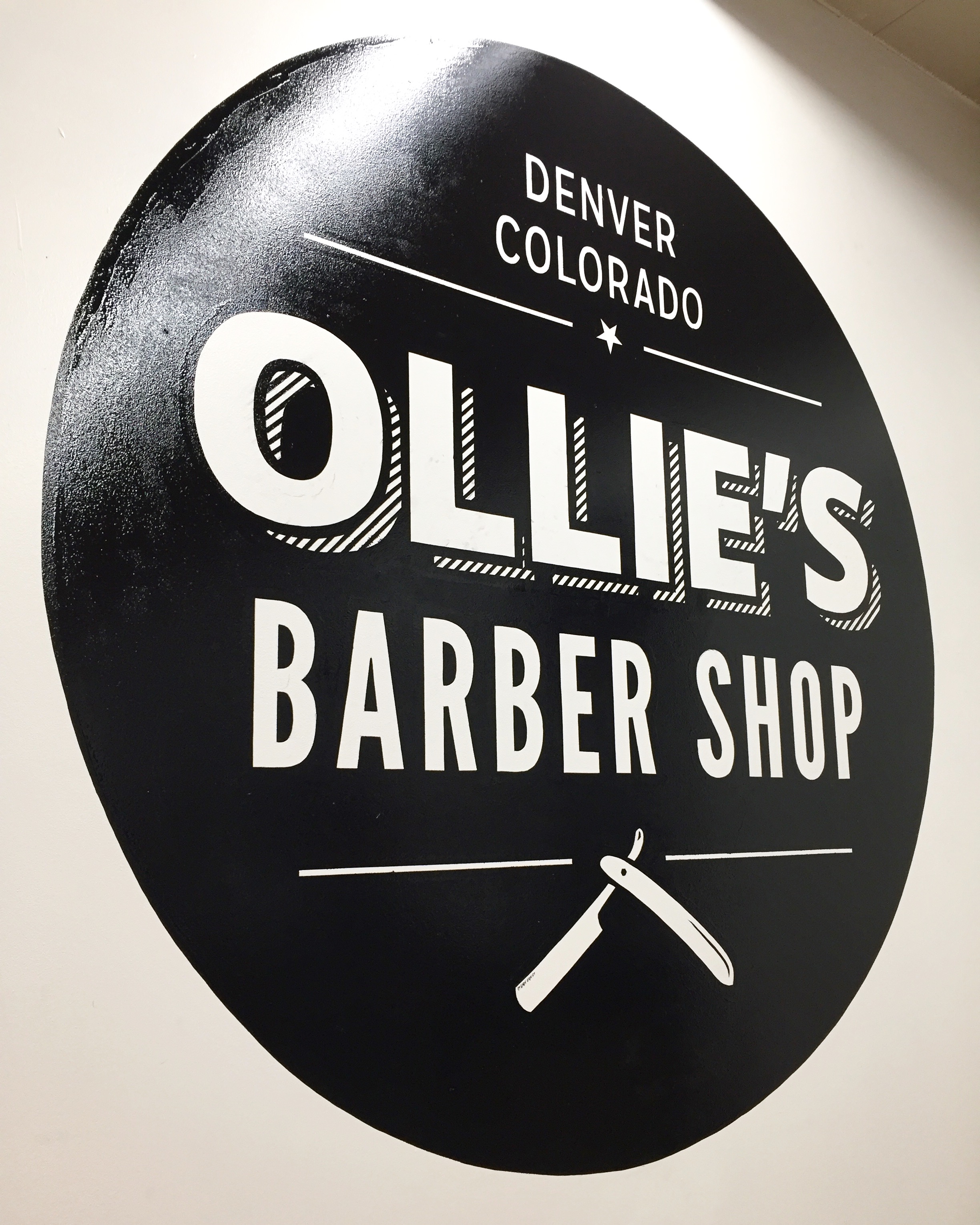 Ollie's barber shop, located at 616 East Kentucky Ave in Denver, asked to have this previously designed logo added to a blank wall at the back of their shop. Not only does it add an artistic aspect to the wall but it aides in social media presence. Just about anyone taking a picture of the inside of this shop will have this sign shown in the background of their IG photo.
This heavy industrial door is usually open through the summer but with the colder months approaching in Denver customers of 2830 Larimer will have to use the main entrance. The classic image of a pointed hand and the elegant American style script will assure the clients find their way in.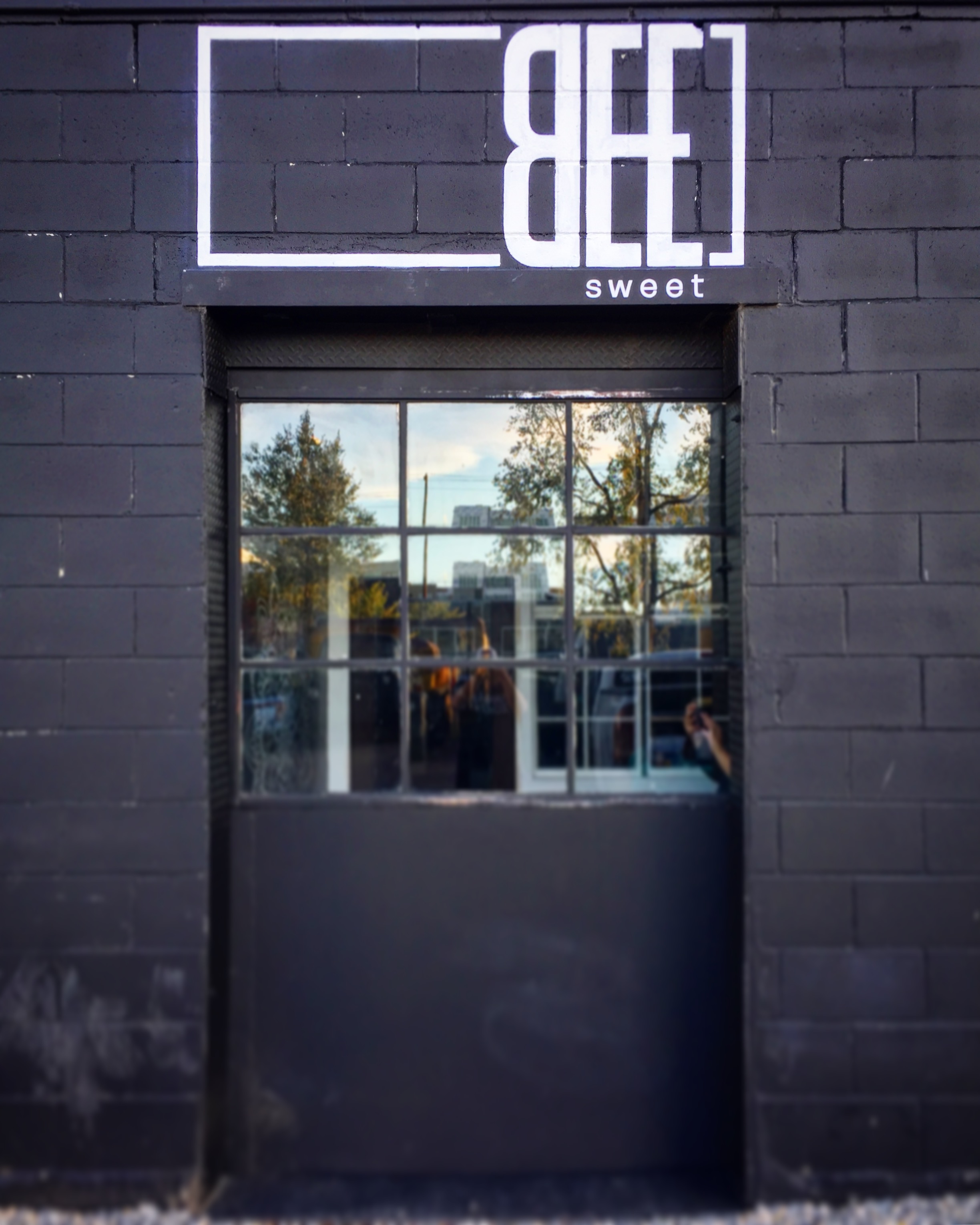 This hand painted sign was completed October 16th for Dani at Bee Sweet. Dani opened her hair salon in April of 2017 and has been quite popular in the neighborhood around 2830 Larimer St. in Denver. Her logo was perfect but needed a border to fill in the area above the industrial style door and give it the modern look she wanted.
Madness Pinstriping is now Co Sign Sign Co!
You have not come across this page by mistake. As a sign artist progresses so should their business and since I offer much more than pinstriping I feel like the name should reflect that. Keep an eye on this site and social media for all the big things coming up.